"There is no man who lives and,
seeing the Angel of Death,
can deliver his soul from his hand."
Eccl. 8:4
Really, you should not
be so scared,
t'was written,
even before your were.
Time bends his knee,
in front of me.
Through my empty eyes,
I've seen them all.
Same fear, same cries,
when they see the wall.
Disappear into the night,
the Shadow and the Scythe.
How (do) you dare ask the door
what you'd prefer to ignore?
I'm the gate, (I'm) the guide,
I don't peep the other side.
I don't stop, I don't rest,
please come over, be my guest.
I don't care if you bleed,
I don't have pride to feed.
Time bends his knee,
in front of me.
Would be too easy
(to) fade away.
Every action
has a fee to pay!
Don't pray me,
don't waste your faith,
I'm just the door,
I am the gate.
How (do) you dare ask the door
what you'd prefer to ignore?
And if you want the truth,
ask a child about his youth.


(Menarini - Capelli 2014)
Of course (since men like to talk about all what scares them, as if, once written down in a limited form, or painted, or sketched it was someway more manageable), Grim Reaper has appered countless times in al formes of popular culture ...

Just to give some examples:
Abaddon (The Angel of teh Abyss), one of the Jewish biblical reppresentations of Death, appears as a character in popular CW Tv-Show Supernatural (8th and 9th seasons) created by writer and screenplayer Eric Kripke. In the same show, Death itself is represented in a very ironical way, surrounded by legions of "reapers".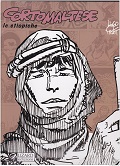 In Talmudic lore, Abaddon is characterized as archangel Samael, and Samael appears as key (and mostly disturbing) character in one of the greatest stories of Corto Maltese (created in by italian artist Hugo Pratt (1927-1995)): Le Etiopiche.
In Ingmar Bergman's (1918-2007) film The Seventh Seal (1957), a knight returning from the Crusades plays chess with Death, in a hopeless attempt to win his own life, this same scene, in parody form, is referenced in many other movies, including "Muppets Most Wanted" (2014).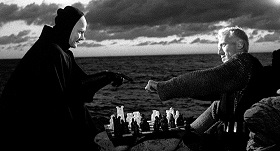 Death is a recurring character in the Discworld novels by Terry Pratchett and in countless movies and TV episodes of series like Twilight Zone and clones. It was portrayed by (among the others) Bengt Ekerot (The Seventh Seal), Robert Redford and Brad Pitt (Meet Joe Black 1998 - remake of 1934 Death takes a holiday).
In Markus Zusak's novel The Book Thief 2005 Death is the narrator. The book inspired 2013 movie: The Book Thief.

Death appear in Harry Potter and the Deathly Hallows book by J.K. Rowling as protagonist of a fairytale called "The Tale of the Three Brothers" (found in a book called "The Tales of Beedle the Bard").
In Neil Gaiman's Comics series The Sandman, Death is one of the seven Endless.

Marvel Comics' version of Death is depicted as a female figure someway involved in a sort-of-relathionship with Deadpool.

In Charles Dickens' (1812-1870) novel, A Christmas Carol (1843), the Ghost of Christmas Future is the personification of Death.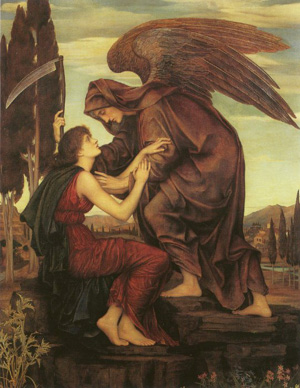 Pre-Raphaelite Evelyn De Morgan (1855-1919)
"Angel of Death"
In Jewish tradition, Death was referred to as the Angel of Life and Death (Malach HaMavet) or the Angel of Dark and Light stemming from the Bible and Talmudic lore. The Bible itself does refer to the "Angel of Life and Death" when he reaps Egypt's firstborns. (...) In Talmud, there is also a reference to "Abaddon" (The Destroyer), an Angel who is known as the "Angel of the Abyss". (...)*
Ancient Greece found Death to be inevitable, and, therefore, he is not represented as purely evil. He is often portrayed as a bearded and winged man, but has also been portrayed as a young boy. (...) *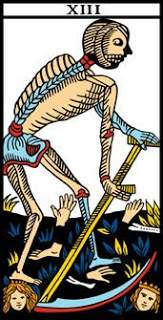 Above, Death in Tarots of Marseille. In Tarots, Death doesn't necesarily have a "negative" meaning, meanly it represents a "change". It normally bear number 13. Do we need to remember that Templars final act began on Friday the 13th of October 1307 when hundreds of them were arrested by order of King Philip IV of France?
Also, In numerology, the number twelve is considered the number of divine organizational arrangement or chronological completeness, (twelve months of the year, twelve hours of the clock day, the twelve deities of Olympus, twelve signs of the Zodiac, the 12 years of the Chinese Buddhist cycle, etc.), whereas the number thirteen was considered irregular, transgressing this completeness. (N.di.MRC)
Breton folklore shows us a spectral figure portending death, the Ankou. Usually, the Ankou is the spirit of the last person that died within the community and appears as a tall, haggard figure with a wide hat and long white hair or a skeleton with a revolving head who sees everyone, everywhere. The Ankou drives a deathly wagon or cart with a creaking axle. The cart or wagon is piled high with corpses and a stop at a cabin means instant death for those inside. (...)*
In Ireland was a creature known as a dullahan, whose head would be tucked under his or her arm (dullahans were not one, but an entire species), and the head was said to have large eyes and a smile that could reach the head's ears. The dullahan would ride a black horse (...), and stop at the house of someone about to die, and call their name, and immediately the person would die. (...)*
In Scottish folklore there was a belief that a black, dark green or white dog known as a Cù Sìth took dying souls to the afterlife.(...)*
La Santa Muerte (Saint Death) is a sacred figure and feminine skeletal folk saint venerated primarily in Mexico and the United States in Folk Catholicism. As a figure made holy by popular belief, the saint of death developed through syncretism between Mesoamerican indigenous and Spanish Catholic beliefs and practices. (...) It is more commonly known as La Catrina.
In many languages (including English), Death is personified in male form, while in others, it is perceived as a female character (for instance, in Slavic and Romance languages).*
*(Source Wikipedia)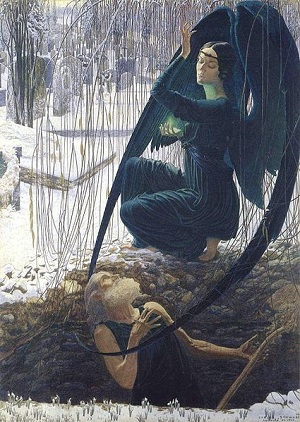 La mort du fossoyeur (The Death of the gravedigger; 1895) by Carlos Schwabe (1866-1926) is a compendium of Symbolist motifs.