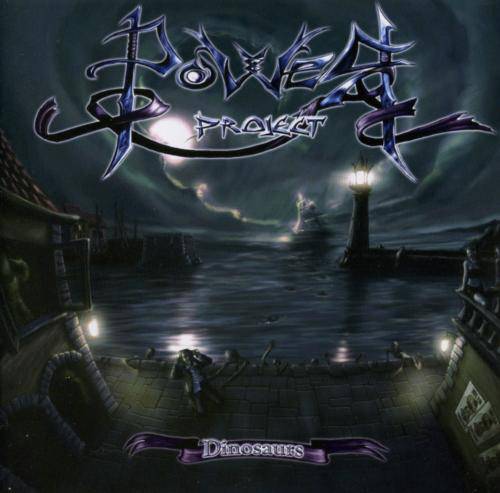 Published by Powerzone Records
Produced by Andy Menario
Line up: Carl Sentance (ex Krokus, voice), Carlos Cavazo (ex Quiet Riot, guitar), Jeff Pilson (ex Dokken, bass) and Vinny Appice (ex Black Sabbath, he also worked with John Lennon and Yoko)
Music by Andy Menario
Lyrics by Marco R. Capelli
Track Listing

1. Mind Control
2. Dinosaurs
3. Boats Of Despair
4. War Is Over
5. She Went Away
6. 20 Hours Of Midnight
7. Welcome To Tomorrow Little World
8. Shadows
9. Zombies
10. Indian Path
A great CD released in 2006 by the now defunct label Powerzone Records, an "all star" line up for ten classic-style songs composed by the Martiria duo: Menarini/Capelli. A kinda rare CD that, if it had a different distribution, could have been a masterpiece. Definitely, good material for metal fans with a taste for archeology!
"Eddy: It's like time has stood still; when I listen to 'Dinosaurs', I imagine I am back in the eighties. (…) First of all we have Carl Sentance, the singer. Look at his website and you will find 1001 bands that he has been the vocalist in. The most well-known are Krokus, The Geezer Butler Band, Persian Risk and Monroe. The guitar player is Carlos Cavazo, that little dude from Quiet Riot. Then we have Jeff Pilson of Dokken fame handling the bass. Last but not least we have drummer Vinnie Appice, one of the best skin-beaters around, known from his work with Dio, Derringer and Black Sabbath. (…) There are some really cool tunes on this disk like 'Boats Of Despair' and the power ballad 'She Went Away' with a great rhythm guitar part. (…)"
"This album has a lot of NWOBHM influence, with many of the songs sounding very influenced by DIO, Iron Maiden and Judas Priest, but it also has a few tracks that are pure glam metal, so I feel I can justify uploading it. Plus, it's something of a hard rock supergroup, comprised for former Quiet Riot guitarist Carlos Cavazo, Dokken bass player Jeff Pilson, Black Sabbath/DIO drummer Vinny Appice and singer Carl Sentance, who was briefly the vocalist for Krokus and fronted the band Persian Risk. This is definitely heavier than most stuff I'll post, but never gets too heavy and retains a hard rock flavour throughout."
http://houseofhairspray.blogspot.com

"Put 4 musicians who have deserved their tracks in the hard rock music together and you will get a powerful band. That must have been the thoughts of Jeff Pilson (bass player in Dokken, Dio, MSG), Vinny Appice (drums in Dio and Black Sabbath), Carl Sentence (vocals in Krokus and in several other bands) and Carlos Cavazo (guitar player of Quiet Riot) when they formed "The Power Project". (…) For the "older" readers (yes I know, I'm also one of them) this album really is a recognition of the good old hard rock stuff like Quiet Riot and Krokus but with a lot more bass power. (…) Favourite tracks are "Boats of Despair", "She Went Away" (great power ballad) and "Shadows". I really think that Power Project has made an album that can compete with many of today's bands. These dinosaurs aren't beaten at all that's for sure; listen and convince yourself. (Ralph)